Beat Winter Woes: Try This Home Remedy With 2 Kitchen Ingredients To Control Hair Fall, Weight Gain
As the winter season is approaching and pollution has engulfed many cities of North India, dryness, hair fall, respiratory issues, cold, cough, and allergies are common health issues. In this holiday season, we all like to indulge in late-night munchies, unhealthy snacking, and a lot of junk food, which often leads to weight gain as well. What if we tell you that you can control all this with just two ingredients from your kitchen?
Dr Dixa Bhavsar Savaliya, Ayurvedic Expert and Co-founder of The Kadamba Tree, shared a reel on Instagram laying the benefits of this home remedy that can help you not only control your weight but also keep winter health issues at bay. 
Home Remedy For Winter Woes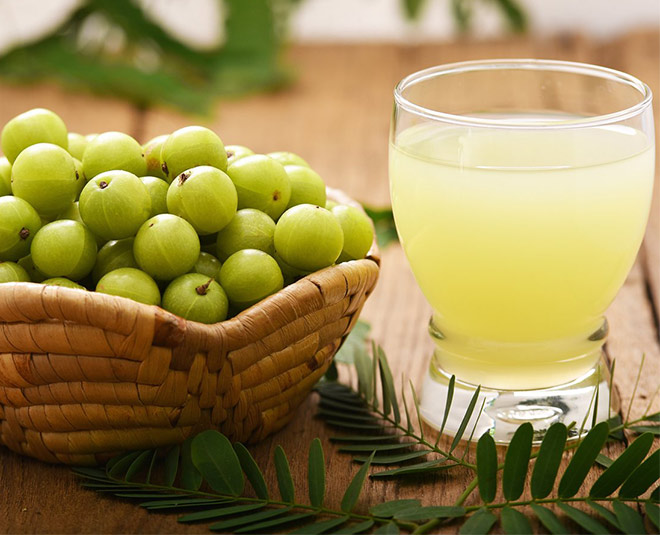 You can prepare this remedy at home with just ingredients from your kitchen. It does not require cooking or the hassle of measuring spices. 
Ingredients For Home Remedy To Control Hair Fall
5 Amla or Indian gooseberries
1 Tablespoon honey
Method To Prepare Home Remedy To Beat Winter Woes
Cut amla into 4-5 pieces and add all of it into an air-tight jar. 
Pour a tablespoon of honey over the pieces and mix everything with the help of a spoon. 
Your recipe is ready, and adults can eat 3-5 pieces a day. You can give it to teenagers too. The expert suggested eating it empty stomach in the morning or an hour before or after meals to achieve the best results. 
Benefits Of Amla For Hair, Skin, And Health
The ayurvedic expert wrote in the caption, "Indian gooseberry is one of the best fruits consumed in winter." You can easily find it in any vegetable market. Our grandmothers and ancestors used to eat it because of its ample benefits. 
She mentioned that amla is loaded with vitamin C, which helps to build immunity against cold and cough. It also has anti-inflammatory properties that help to reduce swelling and redness along with boosting immunity. 
According to the experts, amla also helps to cleanse the blood, prevent premature greying of hair, and promote hair growth. If you have been experiencing acne and dullness on your face, this remedy will help you clean the skin and get your natural glow back.
Don't Miss: 14 Food Items That Can Help You Detox Kidneys Post Festive Season
Benefits Of Honey For Hair, Skin, And Health
Honey has a sweet taste, and as a natural sweetener, many health experts recommend it as an alternative to processed sugar, which has many side effects on health. The expert said that it is light to digest. 
It is often consumed with detox and weight loss drinks. It offers nourishment to hair (Honey For Hair) and scalp, adds lustre to dull locks, and keeps the body and strands hydrated. It is also considered good for the skin because of its moisturising properties. 
Don't Miss: Nutritionist Shares 7 Reasons Why You Should Drink Pomegranate Juice
Dr Savaliya mentioned in her caption that this home remedy is hot in nature. Therefore it works against weight gain, cold, cough, and skin dryness. She suggested people with diabetes consume it at least three times a day. This small recipe can be stored at room temperature for about 10 days, and you do not need to put it under the sun. 
If you have more queries, you can speak to your healthcare expert. 

link